Fishing in Florida

There's Great Fishing in Florida
Whether you prefer the banks of a lake, or a trip of a lifetime professional charter, Florida is the fishing capitol of the US!
The Atlantic Ocean, Gulf of Mexico, and hundreds of bays, sounds and inlets provide bountiful waters that Florida's marine fish call home. No other state in the union and few countries can boast of a more varied marine environment. In fact, for many, fishing in Florida is not so much a sport as a way of life. And there are many places to enjoy this life, both inland and all along the coast.

Florida Fishing Charters
There are roughly 1,250 marinas in Florida, most with facilities, accommodations and outlets for salt and freshwater fishing charters.
Budget-minded anglers will find numerous piers and parks to cast from as well as thousands of lakes, rivers and canals. Boat rentals and fishing guides are located at the state's more popular fishing areas, such as the St. Johns river and Lake Okeechobee.

Where to Find Fish
Artificial Reefs in Florida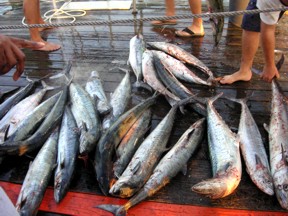 Kingfish are popular in both the Atlantic and Gulf Coast waters. This catch is from a drift fishing boat in Jupiter.


_______________________________



Florida is also known for it's many exciting fishing tournaments, from junior rodeos to high-end events with hundreds of thousands of dollars in prizes. If you plan to enter one these official events, you'll need to follow the International Game Fish Association (IGFA) rules.